The
SHIRTS FOR A CURE Project
was established by punk-rock photographer Mark Beemer to help raise awareness about breast cancer prevention and to provide financial assistance to underprivileged women who cannot afford expensive breast cancer medicine and therapy.
Exclusive shirt designs are donated mostly by bands, with proceeds from sales going to support SFAC's efforts. You can browse more than 150 different shirt designs at www.shirtsforacure.com. For a donation of $14 (plus shipping and handling) you will be helping someone who is in need as well as receiving an exclusive shirt from your favorite band.
But that's not all.
Shirts For A Cure is bringing their fundraising efforts to
New York ComicCon
. Appearing at BOOTH #241, SFAC has a list of special guests including Gerard Way, Cliff Chiang, Molly Crabapple and Brian Ewing, and exclusive items for convention-goers who want to lend a hand to a worthy cause.
- Brian Ewing, one of rock music and pop art's most prolific, iconic image-makers, will be on hand to sign 50 hand-screened prints designed exclusively for SFAC, at the SFAC booth #241, on Friday, October 14th, starting at 2pm, while supplies last. Brian also provides the red "umbrella girl" T-shirt design.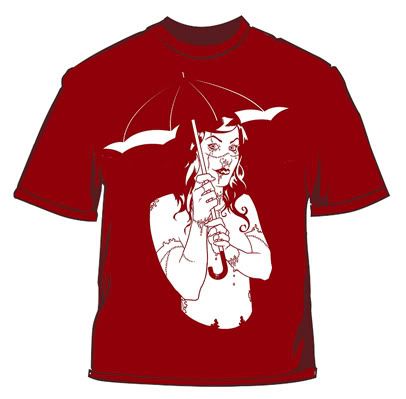 - Cliff Chiang, artist of the new Wonder Woman comic book series from DC Comics, will be appearing at the SFAC booth #241 on Friday, October 14 from 4 - 5 pm. He'll be signing an exclusive $10 Wonder Woman print for the first 50 fans, with all proceeds going to benefit SFAC's ongoing efforts.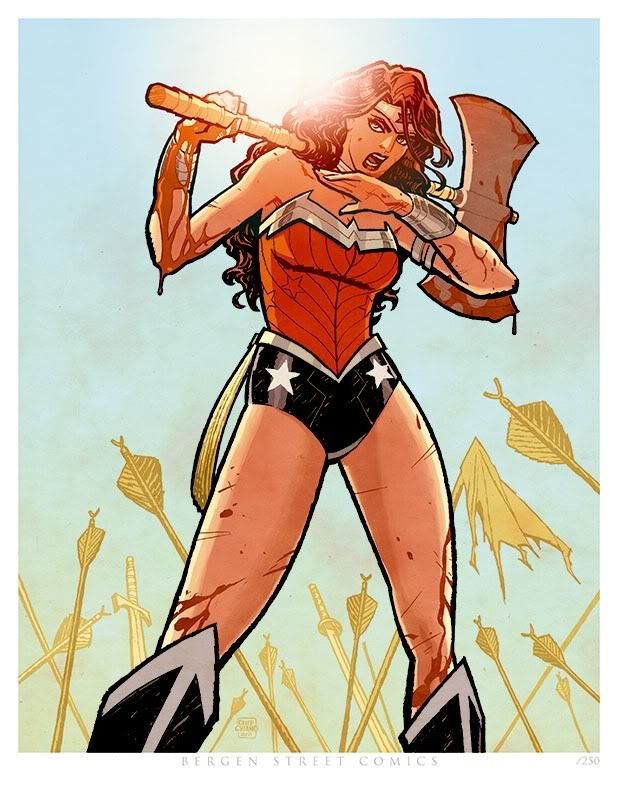 Other contributors include:
- Gerard Way, My Chemical Romance frontman and the Will Eisner Comics Industry Award-winning writer of Umbrella Academy. Gerard provides the "white violin" T-shirt design.
- Molly Crabapple, the New York Times-dubbed "Downtown Phenomenon", illustrator and founder of Dr. Sketchy's Anti Art School. Molly provides the "art monkey" T-shirt.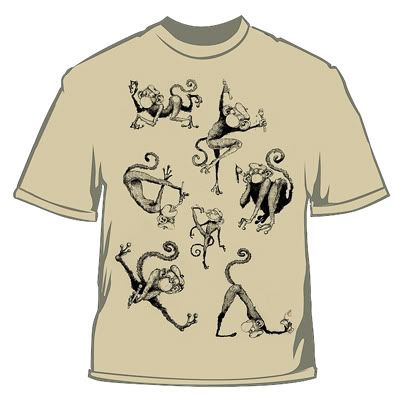 - Mike Cavallaro, Eisner Award-nominated comics creator and, as "Johnny X", frequent collaborator with NJ punk legends, The Bouncing Souls, along with his own bands, Sticks & Stones and Zero Zero. Mike provides the "skull and headphones" T-shirt design.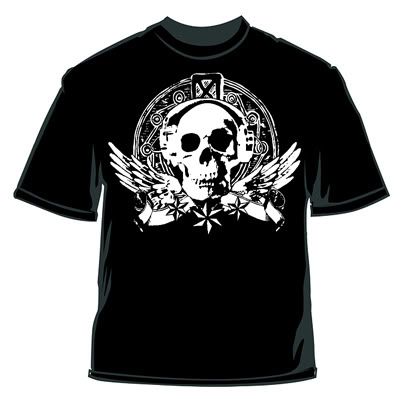 Drinks For A Cure / iFanboy NYCC After-Party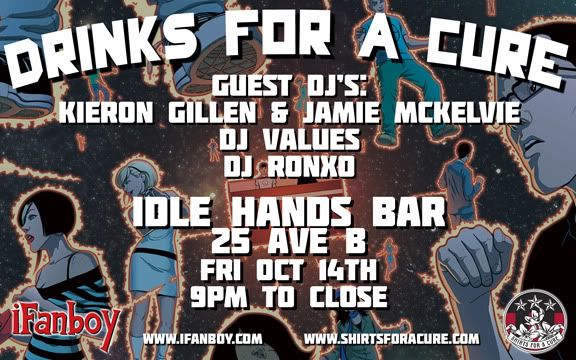 - The folks at iFanboy have teamed up with Shirts for a Cure to throw an awesome party and help in the fight against breast cancer. Comic book superstars Kieron Gillen (Uncanny X-Men, Journey Into Mystery, Phonogram) and Jamie McKelvie (X-Men: Season One, Phonogram) will step up to the turntables to DJ, as well as iFanboy's very own Ron Richards (DJ Ronxo), who will also be DJing a set. Proceeds from drinks will go to charity to help fight breast cancer! This has got the makings of yet another epic iFanboy party that you don't want to miss!
WHEN: Friday, October 14th – 9 PM to close
WHERE: Idle Hands Bar – 25 Avenue B (between 2nd St. and 3rd St.)